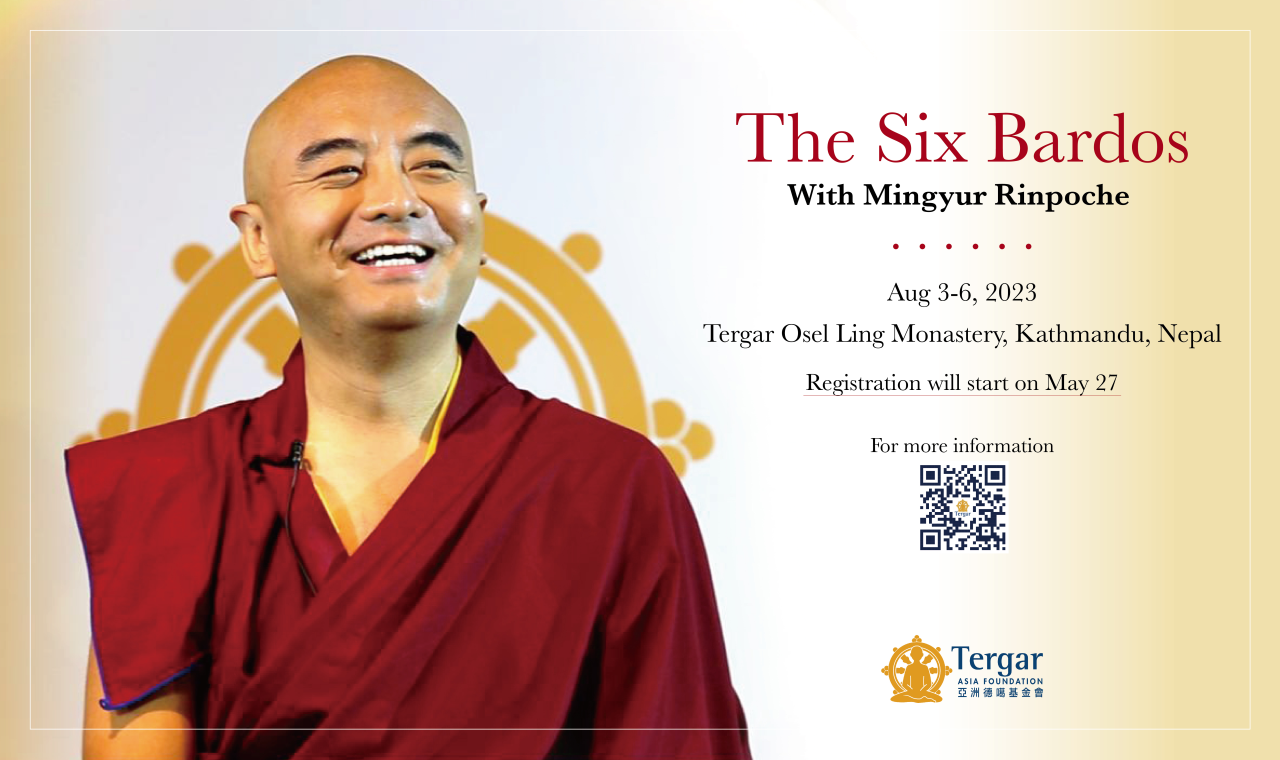 The Six Bardos
With Yongey Mingyur Rinpoche
Date: Aug 3-6, 2023
Place: Tergar Osel Ling Monastery, Kathmandu, Nepal
Organised by: Tergar Asia
* This is an in-person event only.
The bardo teachings of Tibetan Buddhism are profound and precious teachings that address both how to approach the transitory experience of this life and how to use this wisdom to skillfully navigate the process of our own dying and rebirth. At its heart, the bardo teachings are concerned with the core teaching of impermanence, and with the liberation that comes with recognizing the true nature of the mind.
In this course, Mingyur Rinpoche will take us through the journey of the Six Bardos – the three bardos of this life, and the three bardos of death and dying – and offer practical guidance on what we can do at each stage of this cycle to make full use of our experiences for liberation. The course will also include teachings on Amitabha practice, and those who aspire to be reborn in Dewachen will be guided on the aspirations we must make to connect with Amitabha's Pure Land.
To prepare ourselves for dying and learn the most meaningful path for living, join us at this event and hear from Rinpoche directly the key points of what he calls the Plan A to D of living and dying.
About the program
The event will be held at the newly completed main shrine hall of the Tergar Osel Ling Monastery, home to a monastic community under the guidance of Mingyur Rinpoche. It will be the first major event hosted at the new shrine hall that was built from the ruins of the 2015 earthquake.
The four-day, full-day course will include:
Teachings and practice sessions with Mingyur Rinpoche
Review and guided meditation led by Tzunma Miao Rong
Mingyur Rinpoche will teach in English.
Translation will be available in Mandarin, Cantonese, Korean ,Nepali and Thai.
The course schedule will be available in late June/early July on this link.
https://cloud.tergarasia.org/s/KOYZrVcw0xcyubs
How much will it cost?
The teaching is open to all, free of charge, but you must register to secure a place.
The monastery will also provide lunch for attendees, free of charge.
What about travel and accommodation?
Participants are expected to arrange and pay for their own travel and accommodation.
Here is some useful information about travel to Nepal, including visa information and the contact of a travel agent who can help to arrange for airport transfer and accommodation.
https://cloud.tergarasia.org/s/iHesXoadbDQ8xZ4
To ensure that you have the most up-to-date and accurate information, we suggest contacting the local travel agent in your country to check your country's overseas travel policy, availability of flights, and visa requirements for entering Nepal.
Registration
Registration will end when all places are filled.
Registration is required to secure a place.
About Mingyur Rinpoche
Yongey Mingyur Rinpoche possesses a rare ability to present the ancient wisdom of Tibet in a fresh, engaging manner. His profound yet accessible teachings and playful sense of humor have endeared him to students around the world. Most uniquely, Rinpoche's teachings weave together his own personal experiences with modern scientific research, relating both to the practice of meditation.
Born in 1975 in the Himalayan border regions between Tibet and Nepal, Yongey Mingyur Rinpoche is a rising star among the new generation of Tibetan Buddhist masters. From a young age, Rinpoche was drawn to a life of contemplation. He spent many years of his childhood in strict retreat. At the age of seventeen, he was invited to be a teacher at his monastery's three-year retreat center, a position rarely held by such a young lama. He also completed the traditional Buddhist training in philosophy and psychology, before founding a monastic college at his home monastery in north India.
In addition to extensive training in the meditative and philosophical traditions of Tibetan Buddhism, Mingyur Rinpoche has also had a lifelong interest in Western science and psychology. At an early age, he began a series of informal discussions with the famed neuroscientist Francisco Varela, who came to Nepal to learn meditation from his father, Tulku Urgyen Rinpoche.
Many years later, in 2002, Mingyur Rinpoche and a handful of other long-term meditators were invited to the Waisman Laboratory for Brain Imaging and Behavior at the University of Wisconsin, where Richard Davidson, Antoine Lutz, and other scientists examined the effects of meditation on the brains of advanced meditators. The results of this groundbreaking research were reported in many of the world's most widely read publications, including National Geographic and Time.
Currently, Mingyur Rinpoche teaches throughout the world, with centers on four continents. His best-selling book, The Joy of Living: Unlocking the Secret and Science of Happiness, debuted on the New York Times bestseller list and has been translated into over twenty languages. Rinpoche's most recent book is In Love with the World: A Monk's Journey Through the Bardos of Living and Dying, a rare and intimate account of his near-death experience and the life-changing wisdom he gained from it.
About Tzunma Miao Rong
Tzunma Miao Rong was born in Taipei in 1975. In 1990, she went to study at Fo Guang Shan Buddhist College in Kaohsiung, Taiwan. In 1993, she was ordained by Master Hsing Yun of Fo Guang Shan and received the nun ordination. In 1994, she went to Lhasa, Tibet to study Tibetan. In 1995, she studied in Leksheylin Buddhist College in Kathmandu, and trained under the guidance of Khenpo Tsultrim Gyamtso Rinpoche and other Rinpoches.
Since 1999, she has been the CEO of Nagarjuna Institute in Nepal, responsible for supporting temples in Nepal, India and Tibet. Since 2001, she has served as the translator of the 17th Karmapa, Khenpo Tsultrim Gyamtso Rinpoche, Thrangu Rinpoche, Mingyur Rinpoche and other masters.
She has been the CEO of HWA YUE Foundation since 2003. From 2005, she served in the Kagyu Monlam working group until now. In 2006, she was appointed as president of the Chungsheng Cultural Publishing Company.
In 2010, she served as a member of Tergar Asia decision-making group and the head of Tergar Asia curriculum planning group. In 2011, she was appointed an instructor in Tergar Asia to support the teaching of the JOL program in Asia.
In 2014, she established "the Five Stages of Meditation on Emptiness" course promotion team, and launched the "Treasury of Definitive Meaning" translation project.
In 2016, she served as the coordinator of "Khema Bhikhuni Ordination Association" for the revival of the Tibetan nuns' precepts.