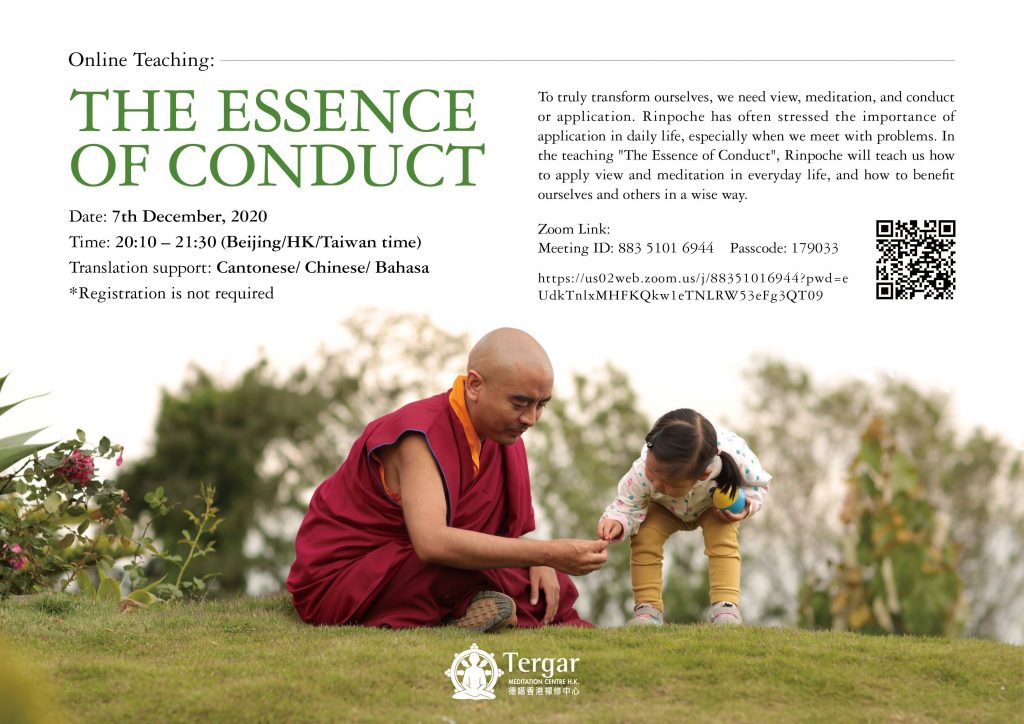 The Essence of Conduct

A Teaching by
Yongey
Mingyur
Rinpoche
Date: 7 December, 2020 (Monday)
Time: 8:10pm-9:30pm (Beijing/Hong Kong/Taiwan/Singapore/Malaysia time)
Languages:
Mingyur Rinpoche will teach in English.
Translation will be offered in Cantonese, Chinese Mandarin, Bahasa Indonesia, Thai, Japanese, Italian and French.
Registration is not required.
Zoom meeting: https://us02web.zoom.us/j/88351016944…
Meeting ID: 883 5101 6944
Passcode: 179033
Organiser: Tergar Hong Kong
About the teaching
Rinpoche has often said that to transform ourselves, we need three things – view, meditation, and conduct. Without any one of them, we will find ourselves stuck on the spiritual path.
View has to do with cognition, while meditation helps us to discover and connect with awareness. Conduct, then, is to apply both view and meditation in our everyday life, especially when we meet with problems. We need all these three elements working together. If we have only view, we cannot transform in an unlimited way. If we have only meditation practice, then we may still have doubts – we can achieve a little bit of peace and calmness on the cushion but not in everyday life. If we have only conduct, we may not be clear on the whys and hows we can benefit others.
In the teaching on "The Essence of Conduct", Rinpoche will teach us how to apply both view and meditation practices on our everyday life, and how to benefit ourselves and others in a wise way.