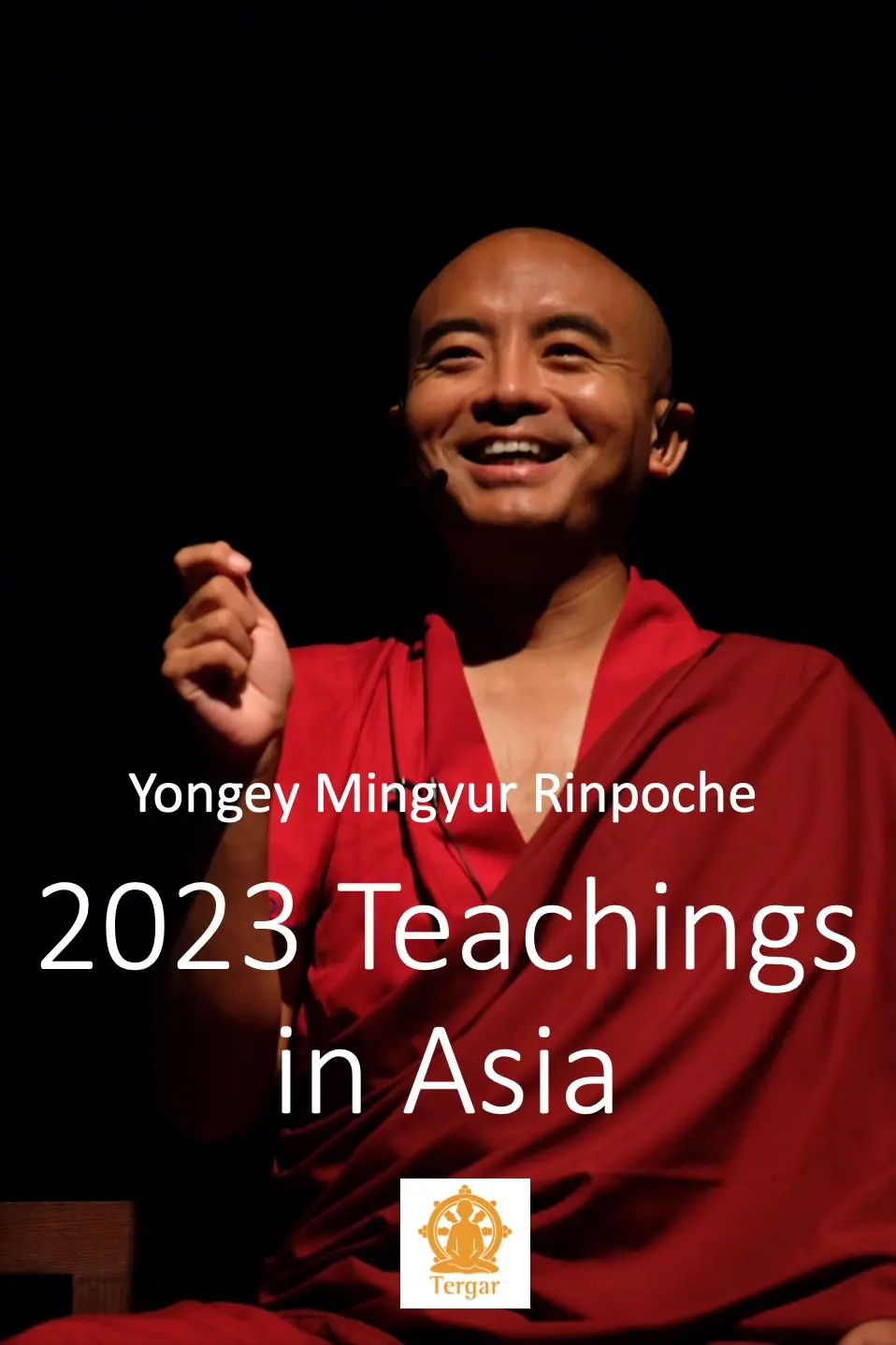 Dear friends,
We are delighted to announce that Rinpoche will travel to many places in the Asia-Pacific region this year to give teachings. Do mark your calendar and join us for these precious teachings.
Here is the schedule of events as of now. As these events are organized by different communities in Asia, please look out for the organizing team's announcement nearer to the event date for detailed information and instructions on how to register.
Please note that some events have strict prerequisites.
Unless otherwise indicated, these are all in-person events.
Rinpoche will teach in English with translation into different languages. Details will be announced later.
Tergar Osel Ling, Nepal
Tergar Asia annual retreat: The Six Bardos
August 3-6, 2023
Organising team: Tergar Asia
https://www.tergarasia.org/
https://www.facebook.com/TergarAsia/
Hong Kong
Path of Liberation Levels 1-2 *
August 16-20, 2023
White Tara Empowerment
August 19, 2023
Public teaching: OK with "Not OK"
August 20, 2023
Public teaching II (topic to be announced)
August 21, 2023
Organising team: Tergar Hong Kong
https://www.facebook.com/tergarhongkong/
Taiwan
Inauguration of new centre and 21 Tara puja
August 23, 2023
Public teaching: Invest in Inner Wealth, Live in Abundant Contentment
August 23, 2023
Path of Liberation Levels 1-2 *
August 24-27, 2023
White Tara Empowerment and Refuge
August 24, 2023
Joy of Living Level 1
August 28-29, 2023
Public teaching: The Seven Points of Mind Training
August 30, 2023
Organising team: Tergar Taiwan
https://www.tergar.org.tw/
https://www.facebook.com/tergartaiwan/
Korea
Joy of Living Level 3 *
September 1-2, 2023
Joy of Living Levels 1-2
September 3-6, 2023
Organising team: Tergar Korea
오픈채팅방 링크: http://bit.ly/tergarkorea
Japan
Anytime, Anywhere Meditation
September 16-17, 2023
Public teaching (topic to be announced)
September 18, 2023
Introduction to Mahamudra
September 18-19, 2023
Organising team: Tergar Japan
https://peraichi.com/landing_pages/view/tergar-japan
Thailand
Public teaching (topic to be announced)
Joy of Living Levels 1-2
September 21-25, 2023 (actual dates of the two events to be announced later)
Organising team: Tergar Thai
https://www.facebook.com/tergar.thai
Indonesia
Path of Liberation Levels 1-2 *
November 25-28, 2023
Public teaching (topic to be announced)
November 29, 2023
Organising team: Tergar Indonesia
https://www.facebook.com/TergarIndonesia/
Australia
Program to be announced
December 1-7, 2023
Singapore
Path of Liberation Levels 1-2 *
December 12-15, 2023
White Tara Empowerment
December 15, 2023
Public teaching (topic to be announced)
December 16 or 17
Organising team: Tergar Singapore
https://www.facebook.com/tergar.singapore
Malaysia
Public teaching (topic to be announced)
December 23, 2023
Path of Liberation Levels 1-2
December 23-26, 2023
Joy of Living Levels 1
December 27-28, 2023
Organising team: Tergar Malaysia
https://www.facebook.com/tergarmalaysia
* This event has prerequisites