Path of Liberation Online Retreat
with Yongey Mingyur Rinpoche
---

Programme

Path of Liberation level 1

Sept 2-5

The Path of Liberation training constitutes the core of Mingyur Rinpoche's Vajrayana teachings, built on the foundational practices of the Joy of Living program. In this POL1 Online Retreat, Rinpoche will elaborate on the deepening meditation practices that prepare us for nature of mind practice and introduce the core Buddhist practices through teachings on a practice liturgy that Rinpoche has composed, Nectar of the Path.
This inspirational practice manual provides a complete overview of the path in a daily practice format and includes topics such as the four thoughts that turn the mind towards the dharma, refuge, bodhichitta, loving-kindness and compassion, and guru yoga.

Requirements for participation:
Option 1: To have attended all three Joy of Living levels — Calming the Mind (Level 1), Opening the Heart (Level 2), and Awakening Wisdom (Level 3) — and completed the associated practice requirements
Option 2: To have completed the full preliminary practices of any Buddhism lineages (the 4 x 100,000 ngondro)
Option 3: To have had a daily meditation practice for at least five years and attended either group or solitary practice retreats for a total of at least thirty days, with 6+ hours of formal meditation practice per day, under the guidance of a Buddhist teacher

Mingyur Rinpoche will teach in English while a supplementary class by Khenpo Kunga will be taught in Tibetan, with English translation. Translation will be offered in Chinese Mandarin, Cantonese, Japanese, Korean, and Bahasa Indonesia.

Path of Liberation Levels 5

Oct 25-28

White Tara represents the enlightened qualities of all awakened beings. Connecting with these profound characteristics in her can help us unlock our own true nature and intrinsic qualities. During this program, Mingyur Rinpoche will introduce the White Tara practice and the profound methods used within it.

The online retreat is open only to those who have received in -person the White Tara Empowerment, and must have already attended and completed the practice requirements for Path of Liberation Levels 1,2,3 and 4.
Participants must fully attend the course. Absence in any of the classes will mean they have to retake the course to progress to the next level of the programme.
---
Course Time
POL1
Beijing/Hong Kong/Taiwan time
Day1 15:00-20:30
Day2 09:00-20:30
Day3 09:00-20:30
Day4 09:00-18:00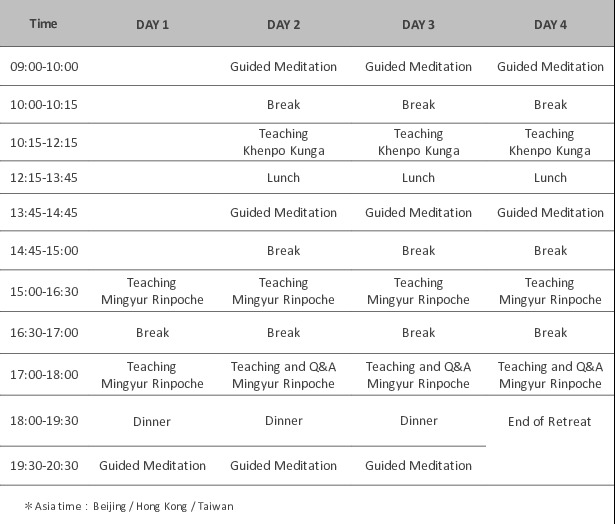 POL5
Beijing/Hong Kong/Taiwan time
Day1 15:00-20:00
Day2 08:30-22:00
Day3 08:30-22:00
Day4 08:30-19:00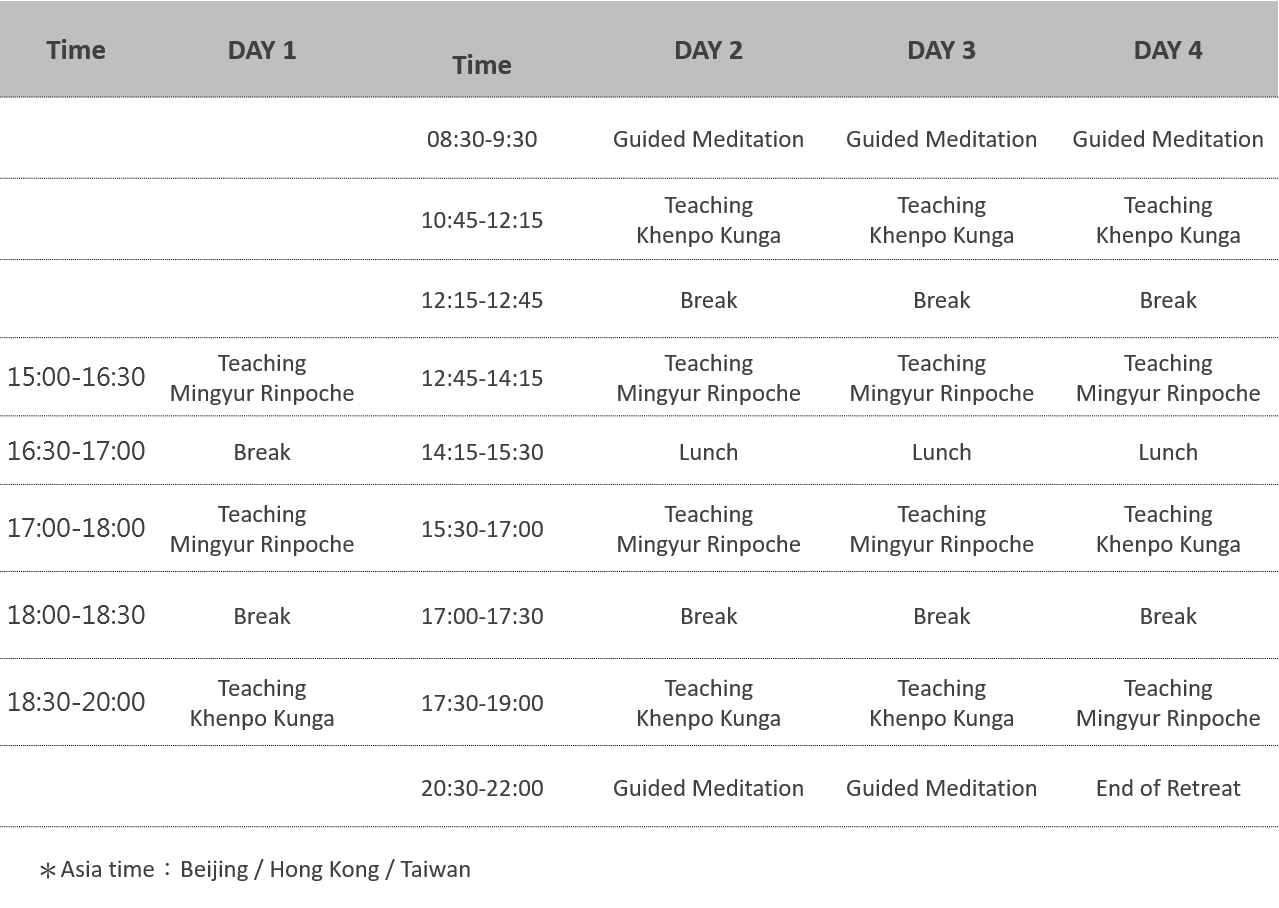 ---
What is included in the retreat?
Teaching by Mingyur Rinpoche and Khenpo Kunga
Q&A sessions with Rinpoche and Khenpo
Guided meditation
---
What is the Path of Liberation?
The Path of Liberation is an experiential path of meditation for those who wish to practice the Buddhist teachings under the guidance of Mingyur Rinpoche. The Levels 3 and 4 programme goes further into the unique lineage of nature of mind practice taught by Rinpoche, designed to strip away the causes of suffering and uncover the radiant awareness that underlies all experience.
For more information about the Path of Liberation, please see the Tergar Asia programme page.
---
FEES
USD85 Sponsor fee: This allows us to offer a reduced fee for those on limited income
USD35 Base fee: This fee covers the basic expenses of organizing the online course.
USD15 Reduced fee: For those on limited income
---
FAQs
https://cloud.tergarasia.org/s/ywX3wm10NlVQ6SS
---
Information on Registration
Registration will close 1 day before the event.
If the registration is cancelled, the course will not be transferred and the fee will not be refunded.
ABOUT MINGYUR RINPOCHE
Yongey Mingyur Rinpoche possesses a rare ability to present the ancient wisdom of Tibet in a fresh, engaging manner. His profound yet accessible teachings and playful sense of humor have endeared him to students around the world. Most uniquely, Rinpoche's teachings weave together his own personal experiences with modern scientific research, relating both to the practice of meditation.
Born in 1975 in the Himalayan border regions between Tibet and Nepal, Yongey Mingyur Rinpoche is a rising star among the new generation of Tibetan Buddhist masters. From a young age, Rinpoche was drawn to a life of contemplation. He spent many years of his childhood in strict retreat. At the age of seventeen, he was invited to be a teacher at his monastery's three-year retreat center, a position rarely held by such a young lama. He also completed the traditional Buddhist training in philosophy and psychology, before founding a monastic college at his home monastery in north India.
In addition to extensive training in the meditative and philosophical traditions of Tibetan Buddhism, Mingyur Rinpoche has also had a lifelong interest in Western science and psychology. At an early age, he began a series of informal discussions with the famed neuroscientist Francisco Varela, who came to Nepal to learn meditation from his father, Tulku Urgyen Rinpoche.
Many years later, in 2002, Mingyur Rinpoche and a handful of other long-term meditators were invited to the Waisman Laboratory for Brain Imaging and Behavior at the University of Wisconsin, where Richard Davidson, Antoine Lutz, and other scientists examined the effects of meditation on the brains of advanced meditators. The results of this groundbreaking research were reported in many of the world's most widely read publications, including National Geographic and Time.
Currently, Mingyur Rinpoche teaches throughout the world, with centers on four continents. His candid, often humorous accounts of his own personal difficulties have endeared him to thousands of students around the world. His best-selling book, The Joy of Living: Unlocking the Secret and Science of Happiness, debuted on the New York Times bestseller list and has been translated into over twenty languages. Rinpoche's most recent book is In Love with the World: A Monk's Journey Through the Bardos of Living and Dying, a rare and intimate account of his near-death experience and the life-changing wisdom he gained from it.
About Khenpo Kunga
Khenpo Kunga became a monk at a young age and began his education at Tergar monastery, where he studied the rituals, prayers, and other traditional practices of the Tibetan Buddhist tradition. At fifteen, he entered an extended meditation retreat and spent three years mastering the profound contemplative practices of the Kagyü lineage.
Following this period of intense meditation practice, he entered the renowned Dzongsar monastic college near Dharamsala in Northwest India. After studying there for eleven years and receiving his Khenpo degree (roughly equivalent to a PhD), he taught at Dzongsar college for three additional years. Khenpo Kunga's primary teacher is Yongey Mingyur Rinpoche, though he has studied with many other revered masters as well.
In recent years, Khenpo Kunga has taught in Asia, Europe, and the United States as one of the main teachers for the worldwide network of Tergar monasteries, meditation centers, and meditation groups.