The Aspiration of the Mahamudra of Definitive Meaning Retreat
---

Programme

The Aspiration of the Mahamudra of Definitive Meaning Retreat

Dec 2-5

As one of the 2022 Tergar Asia annual events, this retreat combines Dharma teaching and meditation practices, and is specially prepared for students of the Path of Liberation in Tergar Asia community. In this retreat, our honorable guru Yongey Mingyur Rinpoche will use [The Aspiration of Mahamudra, the Definitive Meaning] as the Dharma text, and will personally give us the Nature of Mind teaching and practice guidance. [The Aspiration of Mahamudra, the Definitive Meaning] was written by the venerable third Karmapa Rangjung Dorje. It contains the essence of Mahamudra lineage in all aspects of view, practice and conduct. It is also one of the most precious treasures of the Karma Kagyu lineage. The retreat will last for four days. Every day, there will be personal teaching from our honorable guru Mingyur Rinpoche and group practices organized by Tergar Asia.

**Eligibility update!**
This retreat is open to all, but some of the sessions (see retreat time table) are open only to those who have received Tergar's Path of Liberation Level 2 teachings.

Mingyur Rinpoche will teach in English. Translation will be offered in Chinese Mandarin, Cantonese, Japanese, Korean, Bahasa Indonesia and Russian.
---
Course Time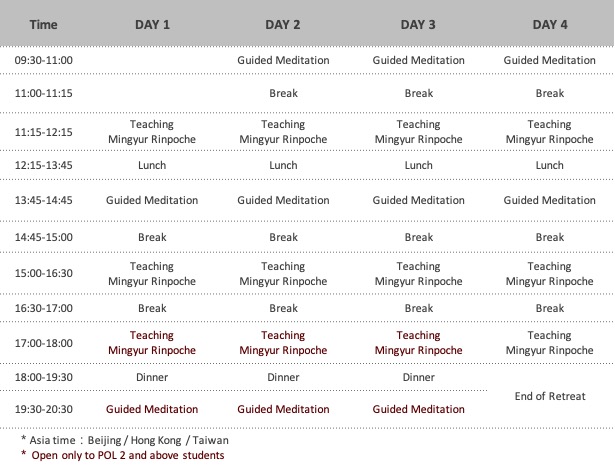 ---
What is included in the retreat?
Teaching by Mingyur Rinpoche
Q&A sessions with Rinpoche
Guided meditation
---
FEES
USD85 Sponsor fee: This allows us to offer a reduced fee for those on limited income
USD35 Base fee: This fee covers the basic expenses of organizing the course.
USD15 Reduced fee: For those on limited income
---
Information on Registration
Registration will close 1 day before the event.
If the registration is cancelled, the course will not be transferred and the fee will not be refunded.
ABOUT MINGYUR RINPOCHE
Yongey Mingyur Rinpoche possesses a rare ability to present the ancient wisdom of Tibet in a fresh, engaging manner. His profound yet accessible teachings and playful sense of humor have endeared him to students around the world. Most uniquely, Rinpoche's teachings weave together his own personal experiences with modern scientific research, relating both to the practice of meditation.
Born in 1975 in the Himalayan border regions between Tibet and Nepal, Yongey Mingyur Rinpoche is a rising star among the new generation of Tibetan Buddhist masters. From a young age, Rinpoche was drawn to a life of contemplation. He spent many years of his childhood in strict retreat. At the age of seventeen, he was invited to be a teacher at his monastery's three-year retreat center, a position rarely held by such a young lama. He also completed the traditional Buddhist training in philosophy and psychology, before founding a monastic college at his home monastery in north India.
In addition to extensive training in the meditative and philosophical traditions of Tibetan Buddhism, Mingyur Rinpoche has also had a lifelong interest in Western science and psychology. At an early age, he began a series of informal discussions with the famed neuroscientist Francisco Varela, who came to Nepal to learn meditation from his father, Tulku Urgyen Rinpoche.
Many years later, in 2002, Mingyur Rinpoche and a handful of other long-term meditators were invited to the Waisman Laboratory for Brain Imaging and Behavior at the University of Wisconsin, where Richard Davidson, Antoine Lutz, and other scientists examined the effects of meditation on the brains of advanced meditators. The results of this groundbreaking research were reported in many of the world's most widely read publications, including National Geographic and Time.
Currently, Mingyur Rinpoche teaches throughout the world, with centers on four continents. His candid, often humorous accounts of his own personal difficulties have endeared him to thousands of students around the world. His best-selling book, The Joy of Living: Unlocking the Secret and Science of Happiness, debuted on the New York Times bestseller list and has been translated into over twenty languages. Rinpoche's most recent book is In Love with the World: A Monk's Journey Through the Bardos of Living and Dying, a rare and intimate account of his near-death experience and the life-changing wisdom he gained from it.