Encounter with Happiness Public Talks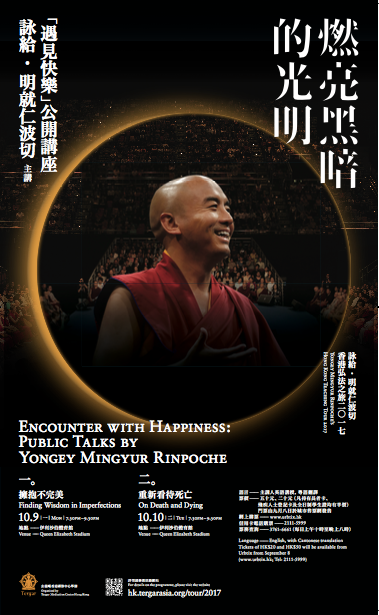 Tickets for Mingyur Rinpoche's two public talks in Hong Kong will go on sale from September 8 on Urbtix. Please join us for this wonderful opportunity to hear Mingyur Rinpoche give teachings in person.
"Encounter with Happiness" Public Talks
Finding Wisdom in Imperfections
Date: October 9
Venue: Queen Elizabeth Stadium
Too often in life, we wish we could have done a little better, tried a little harder, or be smarter, kinder, richer or simply better than we believe we are. But life has its ups and downs, as we know, and being very critical of ourselves can lead to even more problems. Why not take life's challenges as an opportunity for growth and self-discovery? If we care to look, we may well be surprised by the many good qualities we find.
On Death and Dying
Date: October 10 (evening)
Time: 7.30pm – 9.30pm
Venue: Queen Elizabeth Stadium
Death and dying are rarely talked about even though all of us must go through it at some point. This reluctance may leave us unprepared and filled with regrets when the time comes. Actually, there are many benefits to taking an open-minded view of this fact of life. An understanding of death can help us to appreciate our precious human life and recognise the innate goodness that is already within us.
Language: In English, with Cantonese translation
Ticket prices: HK$50 and HK$20 (Half price for holders of senior citizen cards, disabled person registration cards and full-time student cards)
Tickets will go on sale from September 8 on Urbtix
Internet booking: www.urbtix.hk
Credit card booking: 2111-5999 (10am – 8pm daily)
Ticket enquiry: 3761-6661 (10am – 8pm daily)
For more information about Mingyur Rinpoche's Hong Kong teaching tour, please visit:
hk.tergarasia.org/tour/2017/