Frequently Asked Questions
Travel to Tergar Ösel Ling
Nepal, Kathmandu (updated Arpil 2019)
Frequently Asked Questions
CONTENTS
How can I get to Tergar Ösel Ling?
What should I bring to the teachings?
What are the visa requirements for Nepal?
Where can I stay and how can I book accommodation?
How can I stay healthy and safe?
What medical preparation should I make for my trip?
What kind of telecommunication services are available in Nepal?
Taxis
Detailed Directions to Ösel Ling
Directions for Taxi Drivers
Things To Do In The Kathmandu Area
Helpful Travel Guides
Where is Tergar Ösel Ling Monastery?
The teachings will take place at Tergar Osel Ling, Mingyur Rinpoche's monastery in Swayambhu, Kathmandu. Tergar Osel Ling is situated on a hill overlooking the Swayambhu Stupa. The address of Tergar Osel Ling Monastery Institute of Higher Buddhist Studies P.O. Box No. 8921 Sita Paila, Chhokdol Height, Kathmandu, Nepal. It will need about 45 minutes drive from Tribhuvan International Airport or Bodhnath Stupa and about 20 minutes drive from Thamel.
When should I arrive?
You can register / check in on April 8th from 9am to 12 noon at Keydong Thuk Cho Ling Nunnery just off the Ring Road opposite Buddha Park.  Please try your best to come then to avoid queues at check in at Osel Ling on 9 and 11 April from 7.30 to 9.30am.  Please also bring your passport with you (or a copy) as we will have to take copies at check in to comply with Nepalese law.  This is not necessary for Nepali residents.  There will be a desk at check in for this.
What water is available at Osel Ling?
We will have some drinkable water for you to refill your bottles. It's always a good idea to bring your own water. Tea and water will be available at the breaks. Please bring your cups for the tea and a water bottle as we will not provide paper or plastic ones for environmental reasons. If you don't have a cup or water bottles you can purchase one very cheaply from the many shopkeepers below Osel Ling in Swayambhu, thus helping the local economy.  We shall also sell some at the Osel Ling shop.
How can I get to Tergar Ösel Ling?
Tergar Osel Ling is situated at top of a hill overlooking the Swayambhu Stupa. Though the monastery is accessible by road, as it is a steep, narrow road with dangerously sharp corners unsuitable for buses or large vehicles, we are requesting all (physically capable) participants to walk from the walking point from the Nunnery.  Click here for map. There is one walking route to Osel Ling, which involves climbing a number of steep steps. The footpaths are well signposted. Guides will meet you at the Nunnery at 7am on the first days of the teachings (9th and 11th) and at half hourly intervals.
Allow yourself 30 to 40 minutes to walk comfortably and slowly. Please wear good walking shoes. The path will be marked with signs. For those who cannot walk easily, many taxis are available at the beginning of Karkhana Chowk on the ring road. The cost is generally 300 npr and most taxis will take up to 4 people for that cost. Should you wish to book a taxi to and from Osel Ling please see list of telephone numbers at the end of this sheet and more comprehensive directions to Osel Ling from the airport, Boudha and Thamel.
Click here for map. On the first morning of the teachings, guides will be available to show you the walking route to Ösel Ling. You can meet the guides at 7am, 7.30am, 8am and 8.30am  at the Keydong Thuk Cho Ling Nunnery, which is located across from Buddha Park (on the ring road). We will send you more information about this in our pre-retreat email. Please wear good walking shoes and allow yourself thirty to forty minutes. The pathway will be marked with yellow signs and ribbons. PLEASE WALK IF YOU CAN TO AVOID TRAFFIC CONGESTION.

What should I bring to Ösel Ling?
Do bring your own cup to use during tea service, a small cushion to sit on and if you don't have one you can buy from the Osel Ling shop, drinking water, paper and pen (if you wish to take notes), a flashlight, as well as toilet tissue and whatever other personal supplies you may need for a day out. Bring a shoe bag if you wish to take shoes with you inside the teaching tent. Please note there are no shops or restaurants near Tergar Osel Ling. The weather may be fairly warm (though cool if not sunny). Please wear layers as it's still cool in the morning and evening but could get fairly warm inside the tent.
In what language will Rinpoche teach?
Rinpoche will teach in English.  Chinese Mandarin translation will be sequential so you won't need a radio and headphones if you need translation in Chinese.  There will also be translation in Nepali but you will need headphones and an FM radio for this.
What translation will be available and what equipment will I need to bring to listen to the translation?
Translation will be provided into Mandarin Chinese (sequential) and Nepali.  We may be able to provide translation into other languages as well. If you have a need for translation, please let us know by emailing nepalteachings@tergarasia.org. If you are in need of translation, please bring a digital FM radio (battery and headsets too) as these have better reception than analog FM radios.
FAQs for Foreign Participant
What are the visa requirements for Nepal?
Those living outside Nepal who wish to attend the teachings will need a tourist visa during the time of the teachings. Tourists are allowed to stay up to 150 days in a single western calendar year.
Tourist Visas Tourist visas are available from Nepali embassies and consulates around the world. Tourist visas are also available upon arrival at the immigration counter at Tribhuvan International Airport in Kathmandu. Three types of tourist visas are available:
· 15-day multiple entry for $30
· 30-day multiple entry for $60
· 90-day multiple entry for $100
There are interactive computerized visa application machines at the airport which take your picture and print an application form. You must pay in foreign currency. GB Sterling, Euros, or US dollars are all acceptable. It's convenient if you have as close as possible the correct change. Coins will not be accepted, and change will be given in Nepali rupees.Tourist Visas are also available upon arrival at the land border with India. You will need a passport-sized photo and foreign currency to cover the visa fee. You will be provided with an application form.Renewing your visa Upon expiry of the initial tourist visa, volunteers may obtain a 15-day extension for $30 or a 30-day extension for $60 from the Department of Immigration in Kalikasthan, Kathmandu. You will need to fill out an online application form and then take the print-out to the Department of Immigration. The online application page can be found here
http://online.nepalimmigration.gov.np/.
Airport welcome
For those of you uncertain about travelling to Nepal and concerned about getting to your hotel from the airport, there are several options for you:
Hotel pick up – You might want to check if your hotel offers a complimentary pick-up service.
Pre-paid taxi service – There are pre-paid taxis that you can take from the airport at reasonable rates. There are two pre-paid taxi counters in the airport with prices displayed on a board at either pre-paid taxi counter. You can book the prepaid taxi from within the airport or get a non-prepaid taxi from the parking lot outside. Porters will probably try to carry your bags. If they do, you might like to be prepared with a tip. $1 or $2 US or 100 to 200 Nepalese rupees is considered a good tip. Of course, you can feel free to not use a porter and hold on to your bags. The trolleys in the airport are free of charge, you shouldn't have to pay to use the trolleys.
Tergar has hired a concierge service, DoKora, to provide Airport Welcome. If you are arriving between 10 a.m. and 10 p.m. on April 7, 8 and 10th.  They will have a desk signposted Tergar by the pre paid taxi stand.  They will help you find the prepaid (or regular) taxis and will ensure that the driver knows your destination. You will need to pay for the taxi yourself. DoKora personnel are meant to help you make the transition from airport to taxi as easy as possible. There will be a Chinese speaker and Dokora will also help you buy a sim card for your phone as well as give you directions in Nepali for your taxi driver from your hotel to Osel Ling.
If you're arriving and clearing customs between 10 a.m. and 10 pm on 7. 8 and 10th April you don't need to contact Dokora in advance as they will already be waiting.  If your flight gets delayed or you get stuck in the airport with baggage delays, which pushes your arrival to beyond 11p.m., you can call them on  +977 9841 554551 or info@dokora.com if you want them to wait for you. Kathmandu airport will be closed from 10pm to 8am during these days so if your flight is rescheduled and you arrive on 7.8 or 10th there will be no need to contact Dokora.  If your flight is rescheduled outside of these dates then please contact them on the above phone number or email address if you require their help.
In addition to ensuring your transition from the airport to your hotel is smooth, you can also use them to book hotels, cars and private tours.  Their drivers know where Ösel Ling monastery is and their fees are in line with car service ~ 750 to 800 NPR to most places in Kathmandu and between 1500 NPR to 2000 NPR to Ösel Ling monastery from the airport.
Please see the map, directions to the monastery towards the end of this document.
How can I exchange money?
There is a money exchange booth at the Tribhuvan International Airport in Kathmandu but your exchange rate is better in the city of Kathmandu itself, so you may only wish to exchange a limited number of rupees when you initially arrive. There is an ATM at the airport as well and throughout the city.
Where can I stay and how can I book accommodation?
NO accommodation is available at Osel Ling. Please book the accommodation in Kathmandu online through hotel.com, booking.com and trip advisor. For further details please see our Accommodation List (at end of this document).
What is the local etiquette?
The form of greeting in Nepal is "Namaste" performed by joining both palms together. It literally means, "The divine in me salutes the divine in you". Do not touch someone's head or sit showing the bottom of your feet towards them. It is considered rude. Do dress conservatively when visiting temples, monasteries or sacred places – no shorts, short skirts, or low cut tops. You will need to remove your shoes. If invited inside someone's home it is polite to remove your shoes.
How can I stay healthy and safe?
a) Food safety – Avoid water that is not bottled or boiled. Avoid raw vegetables and pre-cut fruit as much as possible. The food at Osel Ling however is perfectly safe.
Must haves – Always carry toilet tissue and hand sanitizer. It is also advisable to carry a torch (flash light) if you are going out at night
b) Foot wear – Roads and pavements (sidewalks) are uneven with plenty of potholes so sensible shoes are advisable at all times.
Pollution protection – Kathmandu is highly polluted. You may want to bring and use a smog mask if you are in any way sensitive to dust and pollution. Simple cotton face masks are widely available throughout the city. You can also purchase disposal masks from all pharmacies. Please note the air quality up at Tergar Osel ling is generally good. The main problem is while traveling across the city.
Safety at night – Women travelers are advised not to go out alone at night. Also it is neither safe nor advisable to walk up or down from Tergar Osel Ling in the dark alone.
What medical preparation should I make for my trip?
Always consult your medical practitioner well before embarking on foreign travel to discuss your personal medical needs as well as required vaccinations.
What should I bring to Nepal?
Clothing & footwear – Short skirts, shorts, or low-cut tops are not suitable in a monastery setting. As participants are asked to walk up and down from Ösel Ling, sensible shoes are a must. Given the Nepali and Tibetan custom of removing your shoes before you enter a room, shoes that come on and off easily are advisable.
Day time temperatures can still be relatively high. It is advisable to dress warmly in layers.
General items – Any medication, vitamins or supplements you take, special toiletries or cosmetics. You can buy most toiletries in Nepal but if you need brand specific items it's best to bring your own.  You may need a torch (flashlight), sun hat and sunscreen.
What kind of telecommunication services are available in Nepal?
WIFI While at Tergar Ösel Ling – Please note there is no WiFi at Tergar Ösel Ling, and phone coverage for all mobile companies is generally non-existent. WiFi is used widely throughout Kathmandu. Most guest houses, hotels, restaurants, and cafés offer free WiFi to their customers.
Local Mobile Networks – Local sim cards from the Ncell phone company are available at shops all over the city.. Bring a photocopy of your passport and visa and also a passport sized photo. You can recharge your Ncell sim with Ncell recharge cards available in many denominations at most stores in the city. You can also buy Ncell data packages to have access to 3G data. For further information visit Ncells website: https://www.ncell.axiata.com/
Accommodation LIST
The following map shows the location of Tergar Ösel Ling, the listed guest houses and hotels, Ciwec Clinic, Norvic Hospital, Boudha Stupa and Tribhuvan Airport.
Accommodation Map We recommend that foreign participants book accommodation ether in the Swayambhu area or in the main tourist area of Thamel and the adjacent area of Lazimpath. We have compiled a short list of guest houses in the area but it is possible to book others through various search engines, including booking.com, trip advisor, expedia, hostelworld.com etc.
Please note telephone numbers are listed for calling from outside Nepal i.e. with the country code 977. When in Nepal the area code for Kathmandu is 01 (rather than 1). Nepali mobile numbers are all 9 digits long and do not require an area code.
Accommodation in the Swayambhu area
Joyful Guest House – this is not available during the April 2019 teachings.
Contact: Karma Lekshey Ling Gompa
Email: joyfulguesthouse@gmail.com, k.gyalpo@gmail.com
Tel: 977 1 403575, Mobile: 977 9808036847
The Sparkling Turtle Backpackers Hostel
Web site: www.thesparklingturtle.com
Email: tshostel@gmail.com
Tel: 977 1 4033736, Mobile: 977 9813564272
Benchen Vihar
Website www.benchen.org
Email: bghouse@ntc.net.np
Tel: 977 1 4284204/4272302
Swayambhu Peace Zone
Website: www.swayambhupz.com
Email: info@swayambhupz.com
Tel: 977 1 4275544/4670524,
Mobile: 977 9751017697
The Choice Hotel
Website: www.thechoicehotel.com
Email: choicehotel64@yahoo.com
Tel: 977 1 4281353/4287686/4423530
Hotel Mystic Buddha –
Website: http://hotelmysticbuddha.com/
Email: info.mbhtl@gmail.com
Tel: 977 1 4285922
The Vajra Hotel
Website: www.hotelvajra.com
Email: vajra@mos.com.np, info@hotelvajra.com
Tel: 977 1 4271545
Retreat Serviced Apartments
Website: www.retreatservicedapartments.com
Email: frontdesk@retreatapartment.com
Tel: 977 1 4274837
Drongpa SuitesWebsite
Website: https://drongpa-suites-kathmandu.booked.net
Accommodation in Thamel
Kathmandu Guest House
Website: https://www.ktmgh.com
Email: n.shrestha@ktmgh.com
TIBET PEACE INN
Website: http://www.tibetpeaceinn.com
Tel:  +977 1-4380653
KATHMANDU GRAND HOTEL
Website: http://www.kathmandugrandhotel.com
Tel: 977-01-4700694/ 4701483
ECO HOME STAY
Tel: 977-14417343
INTERNATIONAL GUEST HOUSE
Website: http://www.ighouse.com
Tel: 977 1 4252299
Hotel Mulberry
Website: http://www.mulberrynepal.com
Email: mail@mulberrynepal.com
Tel: 977 1 4218899
Hotel Yukhang
Website: http://hotelyukhang.com
Email: info@hotelyukhang.com
Tel: +977 1 426 7358 / 426 7044
Ambassador Garden Home
Website: https://www.aghhotel.com
Email: info@aghhotel.com
Tel: 977 1 470 0724
DOM Himalay Hotel
Website: https://www.domhimalaya.com
Email: info@domhimalaya.com
Tel: 977 1 426 3554 / 421 6813
Hotel Buddy
Website: http://www.hotelbuddy.com.np
Tel: 977 1 4445285
Accommodation in Lazimpat
Hotel Tibet
Website: http://hotel-tibet.com.np.
Email: htltibet@mail.com.np
Tel: 977 1 442 9085
TAO GUEST HOUSE
Tel: 982 3388629
Tel: 982 3435325
Hotel Shanker
Website: https://www.shankerhotel.com.np
Email: https://www.shankerhotel.com.np/contact-page
Tel: 977 1 441 0515
Hotel Ambassador by ACE Hotel
Website: http://www.ambassadornepal.com
Email: info@ambassador.com.np
Tel: 977 1 444 2726 / 444 2727
Radisson Hotel Kathmandu
Website: https://www.radisson.com/kathmandu-hotel-np/nepkathm
Email: reservation@radkat.com.np
Tel: 977 1 4411818
Grand Hotel Kathmandu
Website: http://www.grandhotelnepal.com
Email: info@grandhotelnepal.com
Tel: 977 1 428 2482 / 428 2483
City Hotel & Suites
Website: http://www.cityhotelsuites.com
Email: info@cityhotelsuites.com
Tel: 977 1 400 2193 / 400 2194
Hotel Heranya
Website: http://www.hotelheranya.com
Email: info@hotelheranya.com
Tel: 977 1 4413374 / 4412716
Hotel Manaslu Website: https://hotelmanaslu.com
Email: hmanaslu@gmail.com
Tel: 977 1 441 0071
Accommodation in Boudha
Hotel Siddhi Manakamana
Website: http://www.siddhimanakamana.com
Email: info@siddhimanakamana.com
Tel: 977 1 491 7700 / 491 7711
* In Thamel, Lazimpat and Boundha area, there are many hostels and hotels that can be satisfied by different budget and request. Please check online and be reminded to check the detailed directions to Tergar Osel Ling.
Traffic
From the airport – Osel Ling is approximately a one hour journey from the Tribhuvan airport in Kathmandu.Taxi fares are approximately 1200 nepalese rupees one way.Ask for Swayambhu Buddha Park and direct the driver to Karkhana Chowk just off the ring road. Osel Ling is well signposted but some drivers do not like to go up there, particularly in a full car because the road is very steep and uneven in places. Telephone numbers of taxi drivers who know how to get to Osel Ling are listed along with a map of directions from the ring road.
From Swayambhu – Taxis: A number of taxis wait at the ring road end of Karkhana Chowk. Most know Osel Ling and are generally happy to take no more than two people in older cars but the newer models can take more. The drivers will advise. The cost is 300 npr per taxi. While the road to Tergar is well sign posted, drivers sometimes take the turning to Lekshe Ling. Make sure you are clear that you want to go all the way to the top!!!
From Boudha
a) Buses – these are generally mini buses and can get quite crowded. Fares are no more than 30 Nepalese rupees one way. Wait at the opposite side of the road from Boudha Gate and ask for Swayambhu. You will be dropped off at Buddha Park on the ring road. Karkhana Chowk and the nunnery are just opposite, Karkhana Chowk is the road to the left and the Nunnery directly opposite. From here, you can either walk or take a taxi to Osel Ling.. Buses will take you back to Boudha from the ring road at the Nunnery opposite Buddha Park.
b) Taxis: Many taxis are available around Boudha Gate and drivers need clear directions to get to Osel Ling from Swayambhu and Karkhana Chowk. Fares vary, from 800 npr but over 1000 is excessive.
From Thamel
a) Buses These are generally crowded minibuses. Fares are no more than 20 nepalese rupees one way.You can pick up a minibus to Swayambhu at a number of points on the main road in and out of Thamel. For the return journey, buses generally wait just off the ring road to the right of Buddha Park (facing it).
b) Taxis There are many taxis in Thamel but again drivers need clear directions to get to Osel Ling from Swayambhu. Fares vary from 600 nprs to 800 nprs.
The contact number of TAXIS driver (If phoning from outside Nepal the international dialing code is +977)
Boudha
Krishna: 984 144 6423 – * Krishna can arrange other taxi drivers
Karma 980 3639423
Jit 984 9168489
Jita: 986 023 8662
Vishnu: 980 300 9378
Tikki: 984 292 2704
Rajesh Lama: 984 332 4750
Swayambu
Haku: 980 812 5328
Kishor: 981 0318611
Raju: 984 1454975
Tsundru 981 355 2665 – has a good network of other drivers
Facebook: If you are a Facebook user, please join our Facebook group for sharing travel and accommodation information, www.facebook.com/groups/tergarnepalteachings/.
You might like to print these pages to give to the taxi driver.  You will also receive an audio recording giving directions in Nepali to taxi drivers.
Directions to Tergar Ösel Ling Monastery from the Ring Road at Swayambhu
Directions to Tergar Ösel Ling Monastery from the Ring Road at Swayambhu
गेस्टलाई  तेरगार भन्ने गुम्बामा छोड्नु पर्छ। यो रिङ्ग रोअड भन्दा बाहिर पर्छ। यो गुम्बा डाडा को  तुप्पा मा छ।  गाडी घुमाउने जत्ति पनि ठाउँ छ माथि।
Tergar Ösel Ling Monastery is located on a hilltop. It is located outside the ringroad. Ringroad is a circular road that goes around part of Kathmandu city. Most taxi drivers will need to be given this information. The rates for taxi and car service differ vastly for destinations inside ring road vs. destination outside ring road. While the monastery is at the dead end of the road that leads up to it, there is plenty of space to turn vehicles around at the top. If your taxi driver hesitates, please give them this information.
Here is how you get there:
पहिला स्वोतन्त्र  चोक पुग्नुस, पहिला यसलाई कारखाना चोक भनिन थिओ । यो रिंग रोअड़को बुद्ध पार्क नजिकै छ।
कारखाना चोक पुग्नु भो?  हेर्नुस त, सिद्धार्थ बैंक भएको घरको भेटाउनु। त्यहि घर को  छेउ को बाटो लाग्नुस् है
रिङ्ग रोअड भन्दा बाहिर जानुस, त्यहि बाटोबाट
Intersections are called "Choks" in Nepali. Your first landmark is Swotantra Chok. It used to be called "Karkhana Chok." Try the older name if your driver doesn't recognize the new name. Get to this intersection first. This intersection is close to the Buddha Park. Buddha Park is a new addition to Swayambhu. Once you get to this intersection, look for a sign board of Siddhartha Bank. Look at the photo below. That's the house you should look for. The road adjacent to the house, which you see in the photo, is the one you should take. Remember, the bank should be on your left as you make your way to the monastery. That road takes you outside the ring road towards Tergar Monastery.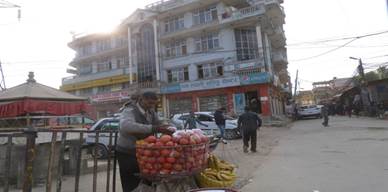 करिब २५० मीटर अगाडी पुल आउछ, त्यहाँ नलाग्नुस।
About 250 meters in, you will come across a small bridge on your right. DO NOT go there. Keep to the road you are on. See the photo below of the small bridge.
यता नलाग्नुस (Don't take this road)
मेन रोअड़ मा बस्नुस। त्यो पुल बाट करिब १०० मीटर अगाडी दुइ बाटो आउछ. त्यहाँ चाही पुल को बाट लिनुस। हेर्नुस है तेर्गर को सइन बॉर्द छ त्यहाँ।
यो बाटो नछोडी तेर्गर पुगिन्छ।  दाया बाया कतै नलाग्नुस। बाटो घुमाउरो छ, अलिक ठाडो उकालो छ।  बिस्तारै चलाउनुस।  केहि भए +977 9818 686416  मा  फोन गर्नुस।
Keep to the road you are on. About 100 meters after you see the small bridge on your right, you will come to a T-intersection. Take the road to the right over another bridge. Look out for the signs for Tergar monastery. And keep following the signs. Don't take any side roads you encounter along the way. The road is steep with hairpin turns, so please ask your driver to go slowly. If you are coming during evening hours, slow down even more as there aren't street lamps. You will see the signs like this along the route. Watch out, and keep going up the hill. You know you will have reached Tergar when you see its welcome gate. If by any chance you feel you are lost, or you feel your driver is lost, call this number +977 9818 686416 for help and ask them to talk to your driver. They will translate between you and the driver, and help you get to the monastery. Important to know, larger vehicles such as a coaster, minibus, HiAce, or bus won't make it to the top. You have to either take a private car, jeep, or taxi. The roads are in okay condition and you will not need a four-wheel drive for March teachings.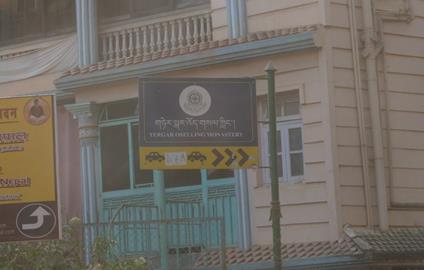 यस्तो साइन बोअर्ड हेर्नुस है (Watch for sign posts like these along the way.)
ठीक बाटो (If you are on this route, you are on the correct path to Tergar.)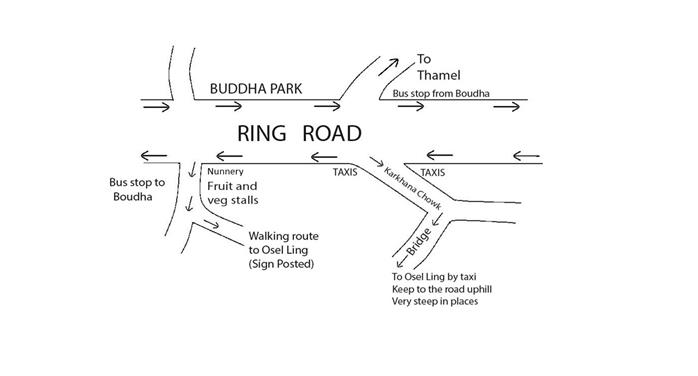 Things to do in the Kathmandu Area
For a map of selected locations, click here.
Swayambhunath Stupa
The Swayambhunath Stupa (meaning the 'self-created' stupa, aka the Monkey Temple) is found on a hilltop to the west of Kathmandu just across 'ring road' from Ösel Ling. Second in importance only to the Boudhanath Stupa, the Swayambhunath complex, founded by King Manadeva during the fifth century, contains a stupa, temples, shrines, Tibetan monastery, museum and library. The Swayambhunath Stupa is one of the crowning glories of Kathmandu Valley architecture. 25 min. walk.
https://www.lonelyplanet.com/nepal/swayambhunath/attractions/swayambhunath-stupa/a/poi-sig/1432708/357105
Thamel
Since the 1960s, Thamel has been the home to the backpacker crowd coming to Kathmandu from all over the world. While the architecture is superb, and the shopping is spectacular, Thamel is a bohemian hub for tourists from around the globe. Thamel is a must visit while in Kathmandu. Can be walked – 20-25 minutes via taxi/van.
Asan Tole Market
Asan Tole is the very heart and soul of Kathmandu and the center of the life of its residents. A walk through Asan will give you a glimpse into the everyday life in Nepal. Asan is a just short walk from Thamel.  Can be walked – 25-30 minutes via taxi/van.
https://www.lonelyplanet.com/nepal/kathmandu/attractions/asan-tole/a/poi-sig/386803/357144
Kathmandu Durbar Square
Kathmandu's Durbar Square was where the city's kings were once crowned and legitimized, and from where they ruled ('durbar' means palace). As such, the square remains the traditional heart of the old town and Kathmandu's most spectacular legacy of traditional architecture. Can be walked – 25-30 minutes via taxi/van.
https://www.lonelyplanet.com/nepal/kathmandu/attractions/durbar-square/a/poi-sig/386867/357105
The Village of Boudha
Located seven (7) miles NW of Ösel Ling, Boudha is the heart of the Tibetan community in Kathmandu. It is bustling with activity at all hours, both sublime and mundane. It is the home to most of the teachers and their monasteries in the Kathmandu Valley. It also offers some of the best shopping for Buddhist statues, paintings and Himalayan crafts in the region. This is a must-visit site. 45-60 minutes by taxi.
Boudha Stupa
The center of all activity in Boudha is the great stupa, Boudhanath. The stupa is one of the most important Buddhist pilgrimage sites in the world. Built sometime after AD 600, when the Tibetan king, Songtsen Gampo, converted to Buddhism. In terms of grace and purity of line, no other stupa in Nepal comes close to Bodhnath. 45-60 minutes by taxi
https://www.lonelyplanet.com/nepal/bodhnath-boudha/attractions/bodhnath-stupa/a/poi-sig/1172098/357115
Monasteries in Boudha
Boudha is the home to some 50 monsateries from all schools of Tibetan Buddhism. Principle among these are Ka-Nying Shedrup Ling (the White Gompa), the monastery of Chokyi Nyima Rinpoche (Mingyur Rinpoche's eldest brother), HH Dilgo Khyentse Rinpoche's Shechen Monastery, Thrangu Rinpoche's monastery, the monastery of Jamgön Kongtrul Rinpoche, Pullahari, and the well known Gelugpa monastery, Kopan Gompa. 45-60 minutes by taxi
Ka-Nying Sheldrub Ling Monastery – https://shedrub.org/
Shechen Monastery – http://shechen.org/
Pashupatinath Cremation Ghats
Near Boudha, on the banks of the sacred Bagmati are the burning ghats (funeral grounds) of Pashupatinath. Pashupatinath is the Nepali equivalent of Varanasi on the sacred River Ganges. The cremation ghats along the Bagmati are used for open-air cremations and are constantly in use. The architecture of the small temples in the surrounding area is beautiful. Pashupatinath is also the place where many of Nepal Hindu Sadhus (mendicants) live. 45-60 minutes by taxi.
https://www.lonelyplanet.com/nepal/pashupatinath/attractions/cremation-ghats/a/poi-sig/1432314/357105
Patan Durbar Square
A UNESCO World Heritage site, the beautiful city of Patan lies south of Kathmandu across the Bagmati River and that is home to Nepal's finest collection of temples and palaces. Founded in the 3rd century, Patan is the home to the Newari people, the earliest inhabitants of the Kathmandu valley and the earliest Buddhist practitioners in Nepal. The Newari craftsman produce the finest Buddhist statuary in the world. Mingyur Rinpoche's father,Tulku Urgyen Rinpoche, was considered to be the guiding Tibetan teacher for the inhabitants of Patan. 60 minutes by taxi
https://www.lonelyplanet.com/nepal/around-the-kathmandu-valley/patan
Golden Temple – Kwa Bahal
Untouched by the earthquake, this unique Buddhist monastery is just north of Durbar Square. It was allegedly founded in the 12th century, and it has existed in its current form since 1409. The temple gets its name from the gilded metal plates that cover most of its frontage and it is one of the most beautiful in Patan. The Shakyamuni Buddha that is the heart of the Golden Temple that is considered to be the most historically important and beautiful statues in Nepal. 60 minutes by taxi
https://www.lonelyplanet.com/nepal/patan/attractions/golden-temple-kwa-bahal/a/poi-sig/1172147/357105
Namo Buddha (Stupa)
Namo Buddha is one of the important pilgrimage spots in the Kathmandu valley and the site of Thrangu Rinpoche's Thrangu Tashi Yangtse Monastery
According to the Jatakas and several sutras, Mahasattva was one of Buddha Shakyamuni's former incarnations. He was the youngest of the three sons of king Maharatha. One day as the three brothers were walking through the forest, they saw a tigress with the five cubs she had given birth to. She was so hungry she could hardly move. The three princes went away, but Mahasattva decided to go back and started to cut his flesh to give it to the tigress to eat. When his brothers went to look for him they found only his bones and hair. The stupa was built on top of these remains.
http://www.rigpawiki.org/index.php?title=Namo_Buddha
Helpful Travel Guides
Lonely Planet Kathmandu – https://www.lonelyplanet.com/nepal/kathmandu
Rough Guides Nepal – https://www.roughguides.com/destinations/asia/nepal/kathmandu-and-patan/
The Longest Way Home –  https://www.thelongestwayhome.com/travel-guides/nepal/kathmandu-city-travel-guide.html
Trip Advisor – https://www.tripadvisor.com/Tourism-g293890-Kathmandu_Kathmandu_Valley_Bagmati_Zone_Central_Region-Vacations.html
Walking Guides for Kathmandu – https://www.gpsmycity.com/gps-tour-guides/kathmandu-414.html