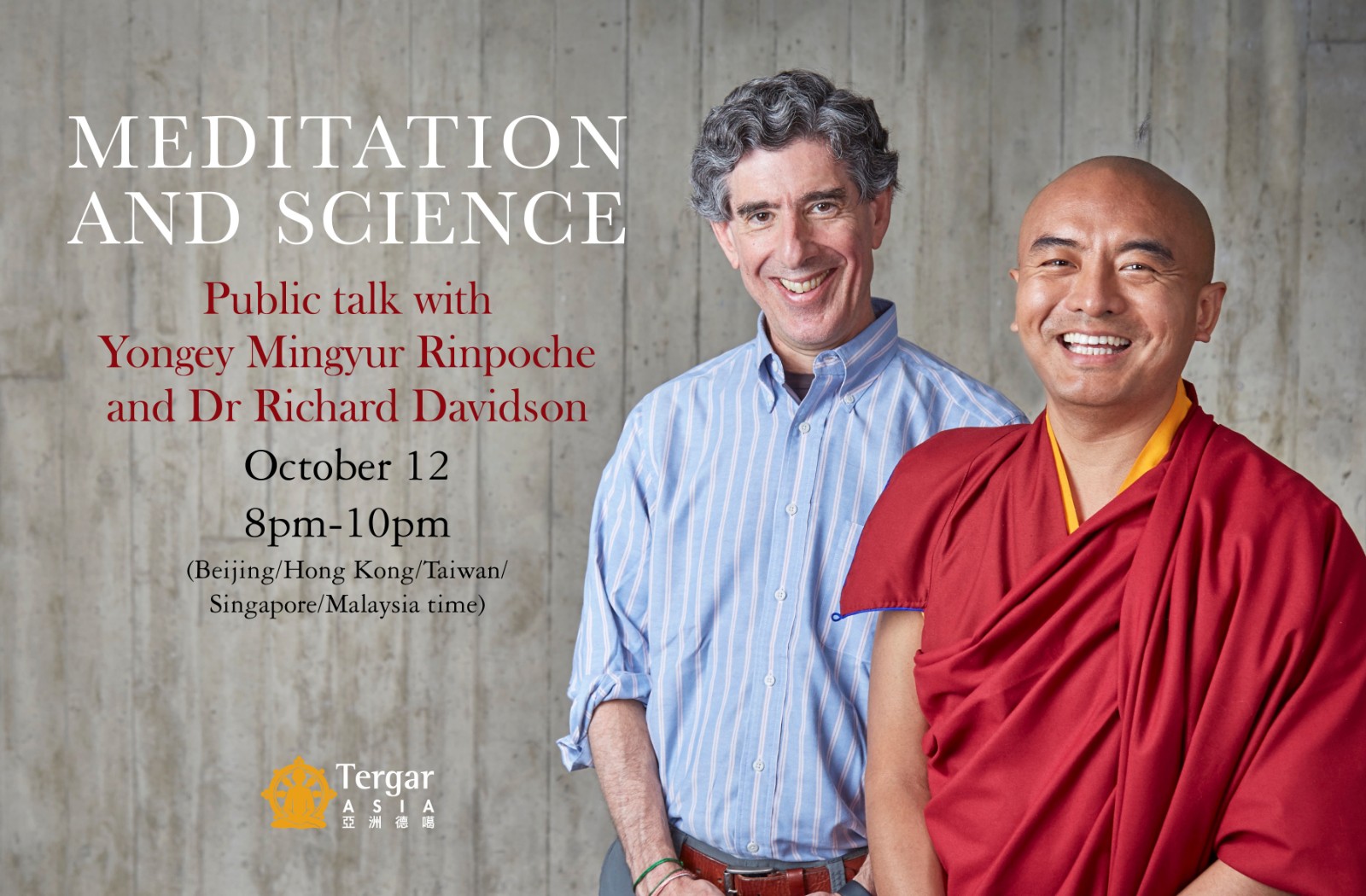 Online Public Talk
with Yongey Mingyur Rinpoche
---

Programme

Meditation and Science
with Yongey Mingyur Rinpoche and Dr Richard Davidson


Oct 12

In recent years, scientific studies have shown the far-reaching benefits of ancient meditation practices. In this public talk, Yongey Mingyur Rinpoche, an outstanding meditation master, and Richard J. Davidson, PhD, a world-renowned neuroscientist, will share their perspectives and insights on meditation and science.
About Yongey Mingyur Rinpoche
Yongey Mingyur Rinpoche is a much-loved and accomplished Tibetan Buddhist meditation teacher. With a rare ability to present the ancient wisdom of Tibet in a fresh, engaging manner, Rinpoche's profound teachings and playful sense of humor have endeared him to students around the world. His first book, The Joy of Living: Unlocking the Secret and Science of Happiness, debuted on the New York Times bestseller list and has been translated into over twenty languages.
About Richard Davidson
Richard Davidson is best known for his groundbreaking work studying emotion and the brain. He is a highly sought-after expert and speaker, leading conversations on well-being on international stages such as the World Economic Forum, where he serves on the Global Council on Mental Health. Time Magazine named Davidson one of The 100 Most Influential People in the World in 2006.

This course is open to all.

Mingyur Rinpoche and Dr Richard Davidson will teach in English. Translation will be offered in Japnese, Chinese Mandarin, Cantonese and Bahasa Indonesia.
Time
Beijing/Hong Kong/Taiwan/Singapore/Malaysia time
20.00pm-22.00pm
Fees
USD 20
All proceeds from the event, minus the operational costs, will be donated to Tergar Osel Ling Monastery.
Information on Registration
Registration will close 5 days in advance of the event.
No refunds or transfer will be offered for cancellation by participants.
Event Organizer
Tergar Asia Foundation
Supported by Tergar Japan
Enquiries
Please direct your queries about registration to talk@tergarasia.org