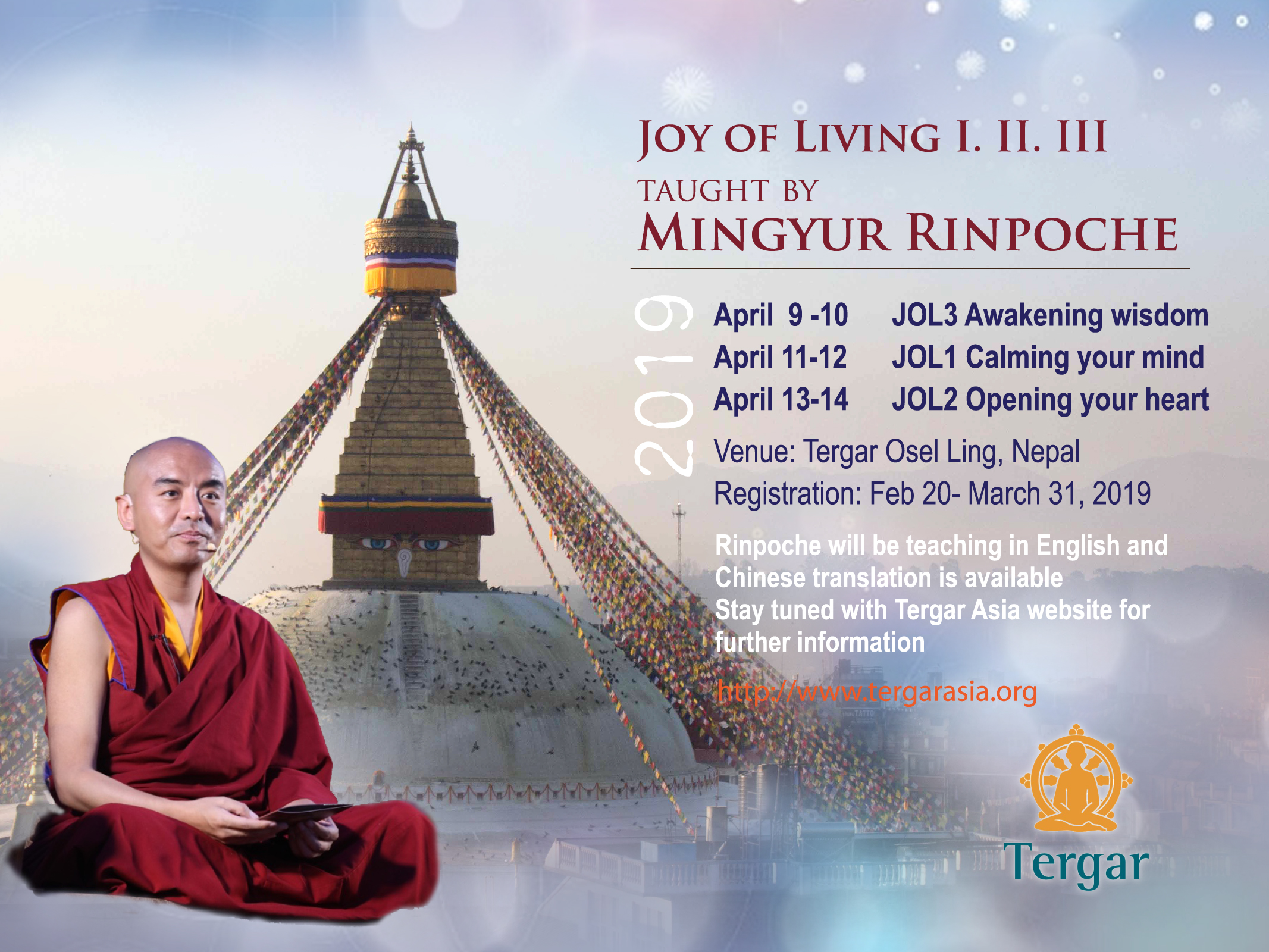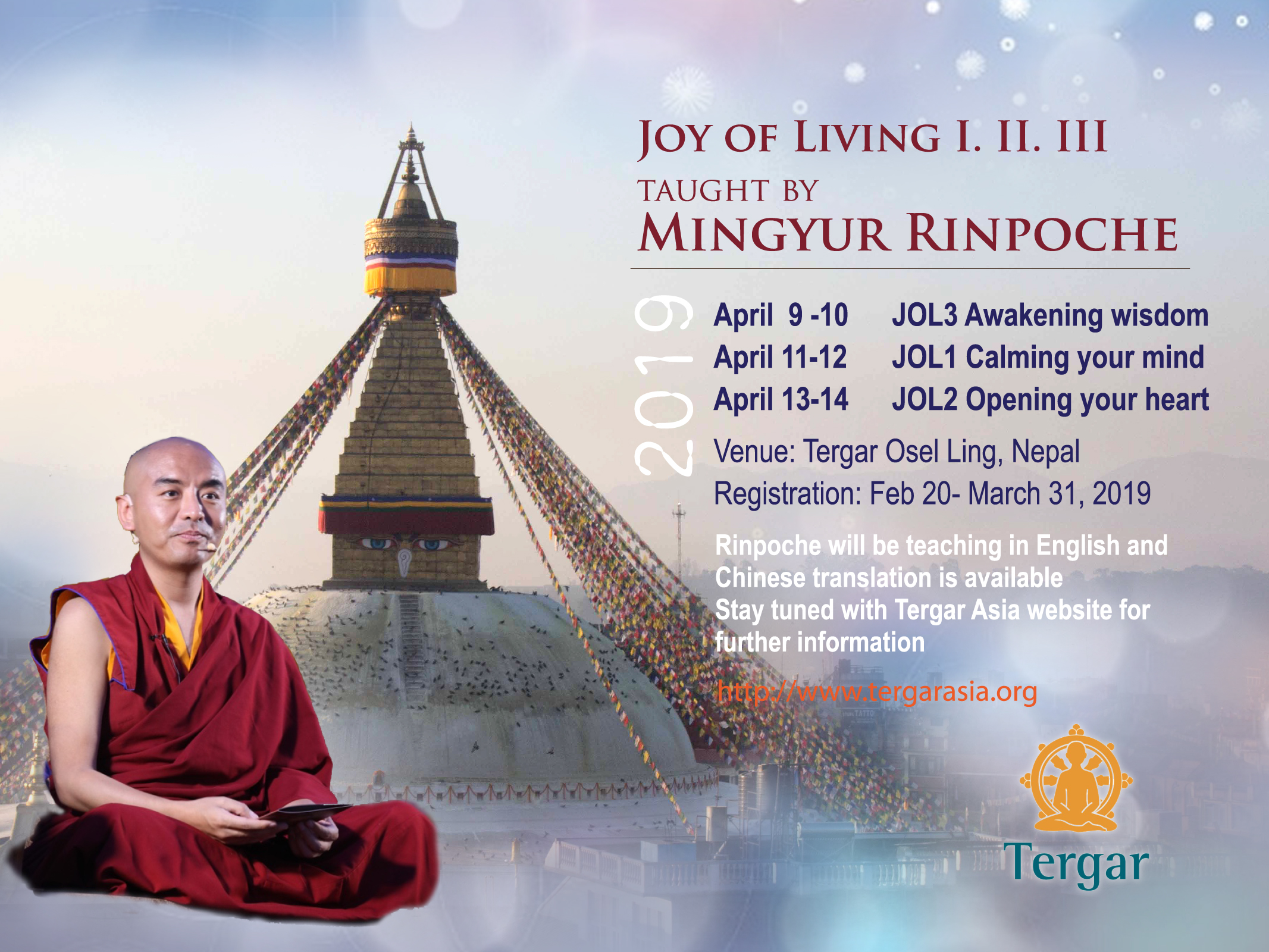 Awareness, Compassion, and Wisdom – Essential Teachings on the Joy of Living
With Venerable Yongey Mingyur Rinpoche
Tergar Ösel Ling, Kathmandu, Nepal
April 9 – 14, 2019
Enrollment starts from February 20, 2019 (12:00 noon) on the basis of first come first served.  Please fill in the enrollment form here:  
Meditation enables us to discover a lasting contentment that is not subject to the fluctuating conditions of our lives, and to nurture the qualities of wisdom and compassion that naturally manifest from awareness itself. The Joy of Living is a secular path of meditation practice that was created by Mingyur Rinpoche. Though rooted in the ancient Buddhist teachings of Tibet, these practices are not religious in nature. They deal with basic functions of the mind, such as mindful awareness and the impulse to move toward happiness and away from suffering. In working with these qualities of mind, we gradually transform our relationship to present-moment experience, learning to approach our thoughts, feelings, and sensory experiences with unconditional warmth and acceptance. Therefore, Joy of Living is a path of meditation practice that can be followed by anyone, regardless of religious or cultural orientation.
【The Joy of Living program contains three levels】
– Calming the Mind
– Opening the Heart
– Awakening Wisdom
This teaching offers an opportunity to practice the Joy of Living teachings under Yongey Mingyur Rinpoche's direct guidance. Rinpoche will share practical advice on using meditation to cultivate awareness, compassion, and wisdom, sharing insights from his own experience and illuminating key points on meditation practice.
【Prerequisites】
1. Joy of Living 3 (qualification: attended JOL I and II and finished 100 hours of sitting meditation; or, have 3 years of meditation experience and completed one month meditation retreat with 6 hours of daily practice.);
2. Joy of Living 1 & 2 (welcome for all new students, no prerequisites);
3. JOL 3, JOL 1 and 2. (same qualification as for JOLIII).
【Where】
Tergar Ösel Ling Monastery
Swayambhu, Kathmandu, Nepal
【When】
April 9 – 10, 2019 – JOL 3 Awakening wisdom
April 11 – 12, 2019 – JOL 1 Calming your mind
April 13 – 14, 2019 – JOL 2 Opening your heart
【Costs】
JOL 3 Teaching including simple vegetarian lunch :  USD100 / HK$780 / RMB680 – paid by bank transfer
JOL 1 & 2 Teaching including simple vegetarian lunch : USD150 / HK$1180 / RMB1020 – paid by bank transfer
JOL 1-3 Teaching including simple vegetarian lunch :  USD250 / HK$1960 / RMB1700 – paid by bank transfer
* Teaching and lunch for ordained sangha and people who are nationality or resident live in Nepal, Hilmaya, India and Tibet: FREE. (Please note registration is necessary for these participants in advance and ID or resident permit will be required for check in!!! Donations would be most welcome for supporting the teaching!)
* Those participants who pay by credit card / we-chat transfer, please note that there is 3-4% handling charges from online payment gateway merchants. After completed the transaction, participants will receive the confirmation from Tergar Asia.
* Full payment is due at registration.
* Cancellation after payment, fees will not be refunded.
【Language】
Language Assistance/Translation: Mingyur Rinpoche will teach in English, and there will be translation into Chinese. We are looking into the possibility of having simultaneous translation into Nepali as well.  Please indicate during registration if translation is requested.

【Accommodation】
There are NO accommodation provided at Ösel Ling during this teaching. Please see our upcoming FAQ for suggestions on accommodations.
【Cancellation Policy】
Should you need to cancel, fee will not be refunded. Tergar Asia will donate the FULL amount to support to this teaching.
【Attention】
** Please note that you will receive an acknowledgement of receipt immediately upon successful submission of the duly completed enrollment form and FULL payment arranged.  We would inform you the details via email.  Thus, please check and ensure your email address to be accurately entered in the form.
For more required information in the enrollment, please see the registration form: 
【Important Reminder】
Ösel Ling Monastery is located on the outskirts of Kathmandu, Nepal and it takes one hour from Kathmandu Tribhuvan International Airport. 

The teachings will be held in a large outdoor tent on the grounds of the monastery. Both chairs and meditation cushions will be provided. Please indicate your preference during registration. 

By the end of March,  Tergar Asia will send the notice of teaching and latest version of FAQ to all participants.

Please note: The Google Map shown below may not be accurate. Please click here for an accurate map. Getting to Tergar Ösel Ling Please see last few pages in FAQ sheet.
If you are a Facebook user, please join our Facebook group for sharing travel and accommodation information, www.facebook.com/groups/tergarnepalteachings/.
For more information, contact nepalteachings@tergarasia.org.